Post by Froggy on Sept 25, 2014 20:43:30 GMT
This is just a draft leaderboard so people might be missed out or in the wrong places based on 2013 Olympic results, Warrior League results and what Valars have seen of people in 8 vs 8 games. Everything will change soon

Please leave your opinions below:
Warrior Leaderboard/Rankings
Last Updated: 12th March 2014
Here are the (obviously unofficial) warrior rankings/leaderboard for CNQ Reboot. Please note: this leaderboard is a somewhat subjective view of the strengths and weaknesses of the warriors currently playing the game. While we have gone to lengths to avoid personal biases, such as the influence of friendships, this list is ultimately our own opinion and not to be taken too seriously. We will update this table every month. Because this is a first version, it is quite possible that we have overlooked someone who needs to be on this list. Please suggest names below.

Due to name changes I am unaware of it is quite possible that someone might end up on the list twice. Please help me correct any errors. Feel free to post results of games or warrior 1v1s below (including mandatory screenshot) if you feel they are relevant to the rankings. Rankings are decided on our personal experience of playing against people, their scores in games and in duels and their overall team play. Obviously this is a flawed system, and we understand if people think it's "arrogant" of us to rate players in this way or comment on their weaknesses, but the intent of this table is to have some fun and not to create arguments. Hopefully it might add some more competition to the game. If you'd like your name to be taken off the list, just let me know.

The table is split into tiers. Warriors may be promoted or relegated based on their performance. Finishing bottom of Tier II or Tier III at the end of the month gets you relegated one Tier down. Finishing top of Tier III or Tier IV at the end of the month will get you promoted to the next Tier up. Other promotions/relegations are more selective.

Thanks for reading!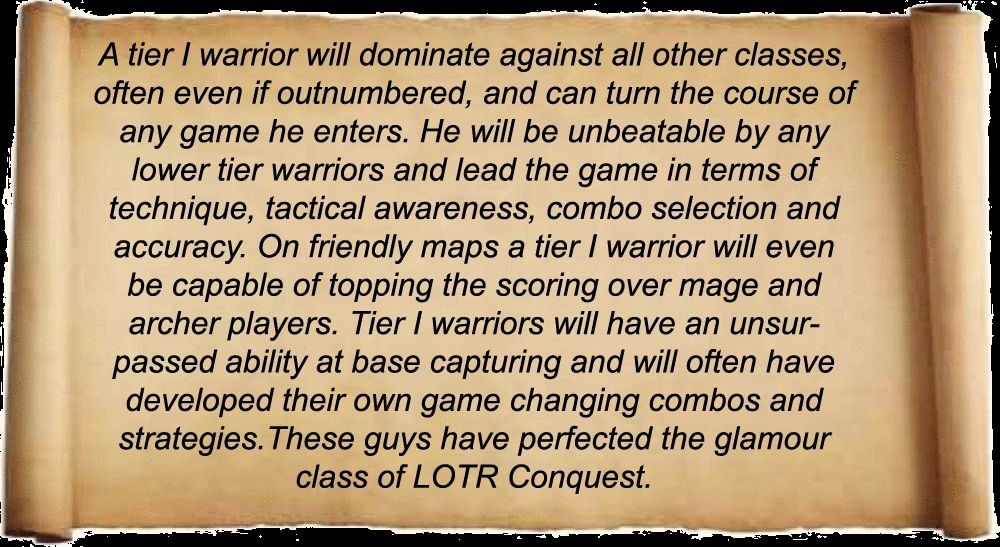 Tier I
1. Taco (The Black Council)
Taco's warrior is formidable. Since an unfortunate Olympic 2013 campaign, he has bounced back in 2014 and has taken the warrior league by force, claiming notable victories over Angelus and Inglorious. He currently resides at the top of the warrior league, undefeated. Taco shows masterful melee skills as well as accurate axes which he uses to gain victory over his enemies. He is an asset to BC and an elite warrior in the 8 vs 8 game modes. Taco hopes to consolidate his position at Tier I No.1 by finishing top of the Warrior League.
2. Angelus (The Black Council)
Angelus is one of (if not the best) 8 vs 8 warriors. He is constantly found working in sync with mages and archers, demonstrating what teamwork is all about. Angelus has no problem dealing with enemies 1 vs 1 because he never loses patience which is a key element of being a top warrior. In the warrior league he has achieved victories against Simon, Mayhem, Inglorious and Onde Aande by using shockingly accurate axes and devastating combos which bear testimony to his skill. However he still hopes to triumph over his bane Taco!
3. Morgoth (Empire')
Though rarely seen these days, Morgoth is still a beast at warrior duels and holds the record for the most warrior duels won in CNQReboot. Morgoth is capable of slaughtering all other classes in 8 vs 8 modes, and constantly tops the scoreboard when he plays. He has astonishing axe accuracy (arguably the best ever in LOTR Conquest) and possesses the most effective crowdbreaker in the game. Morgoth holds the title for having the longest reign as Warrior Cup Champion.
4. Will (The Black Council)
Will helped lead BC to victory over ~VaLaR~ in 2014 by loyally protecting his mage and archers whilst earning kills and points for his team. A gold medal in the warrior Olympics 2012 shows that Will still is an elite melee player and can dominate in 1 vs 1 situations. Will is easily capable of out scoring mages and archers in every mode of the game (including clan wars!). His blocking and dodging style is at top notch, allowing him to manoeuvre out of enemy combos unscathed.
5. Saburex (The Black Council)
Unfortunately Saburex is inactive as of late, but none can dispute his right to stay in Tier I after his remarkable performance in late 2013 where he demonstrated his duelling ability by beating Will, Morgoth and a range of other highly regarded warriors. He also dominated in the 8 vs 8 modes (especially TDM) by dispatching his enemies whatever their class with relative ease. Saburex developed some of the most effective combos in 1 vs 1, which he implemented into 8 vs 8 modes.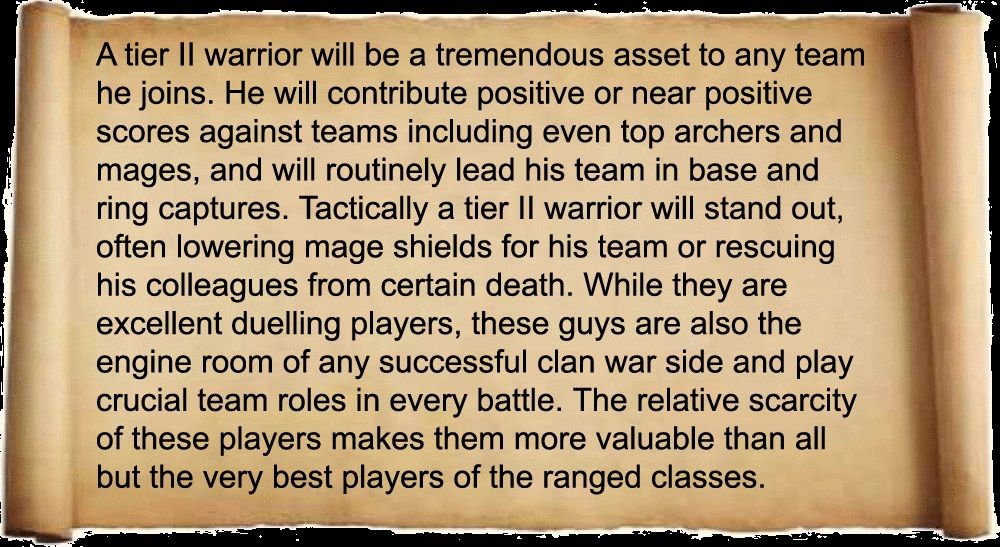 Tier II
1. Merlin (The Black Council)
A surprise winner of the 2013 Olympics, Merlin used a masterful defensive strategy to frustrate his opponents and win against Angelus, Zoroastre, Onde Aander, Ding Dong and Inglorious in close matches. Merlin is also an asset to his team in the 8 vs 8 game modes and comfortably takes down the non-melee classes alone to rack up kills. In the final against Inglorious his accurate axe led him to a 10 - 8 victory. He joins Istari and Angelus as one of the most successful LOTR CNQ Olympians.
2. Inglorious (Equilibrium/The Light Council)
Inglorious achieved a silver medal in the 2013 Olympics and progresses to the top end of Tier II after displaying strong melee skills and effectively using a whole new aerial combo which has proven to be a death sentence for archers and mages. Ingy has one of the most accurate and effective shoulder attacks in the game which can leave him open to counter-attacks if they miss their target. In 8 vs 8 Ingy is a true team player and is almost always the first person to break the enemy shield.
3. Ding Dong (~VaLaR~)
Representing ~VaLaR~ in the 2013 Olympics, Ding secured ~ValaR~'s first medal of the 2013 Olympics in warrior. Ding is highly underrated and catches enemies off guard with aerials and shoulder barges. Ding hopes to further establish his warrior skill in the Warrior League. Ding is also a perfect team warrior, as he showed in the recent BC vs ~VaLaR~ clan war where he protected Kuzmich for the duration of the clan war. Ding's performance can sometimes be hurt when he uses a laptop, and his combos can sometimes be predicted.
4. Rampag3 (Equilibrium/The Light Council)
Tier I scout and Leader of Equilibrium Clan Rampag3 routinely tops the scoreboard when playing warrior and has experience in numerous clan wars, making him an immensely valuable player. Ramp hopes to win the LC warrior tournament to show his capability in duelling. He aids his team by taking out enemies with his accurate long range axes which can match the accuracy of axe gods Istari and Morgoth. Ramp changes his strategy at will when engaging different classes.
5. Ronjons
One of the most experienced warriors in the game, Ronjons is a monument of melee, Commander of BlinCo company, and his prowess at ring bearing and base capturing is legendary. His skill with Gimli is unprecedented, and his warrior a game changer with a high killing capacity. Sadly he no longer duels.
6. Royalty (~VaLaR~/The Light Council)
After a long absence Royalty has returned. Although rarely seen Royalty has secured wins in the Warrior League against Piggy, Gabriel and Simon. Also he has earned victories against Arnii, Abd and Ding where he reigns undefeated in ~VaLaR~ clan. He hopes to further establish his dominance in the duelling sector by winning duels in the LC Warrior Tournament and the Warrior League. Unfortunately Roy is weaker in 8 vs 8 modes where he often dies due to poor dodging skills against mages and archers. His attacks are also highly predictable in duelling, causing him to struggle against the top warriors.
7. Zoroastre (Equilibrium/The Light Council)
Zoroastre is another master of aerial attacks in duelling. His warrior showcases excellent axes, unpredictable combos and masterful use of the heavy attack to block the crowdbreaker. Like many others, Zoro hopes to do well in the Warrior League and to attain high scores against warlords like Taco and Angelus. Zoro's dodging strategy is genius, allowing him to emerge unscathed from mage firewalls and lightning attacks.
8. Onde Aander (The Black Council)
Onde Aander is renowned for her aggressive warrior style and common usage of the warrior shoulder bash. She helped BC to emerge victorious over ~VaLaR~ in the recent clan war through good warrior play and strategy. Onde is a fearless warrior and is the perfect support warrior. A lack of patience and a campaign to end axe duelling can sometimes be the cause of her death in duels.
9. Pigonthefield (The Light Council)
The leader and grandmother of LC is a strong duelling warrior with the potential to rise higher on the rankings. Excellent defensive strategy, teamwork and use of aerials and axes. Pig comfortably slays all classes in 1 vs 1 situations, but can sometimes get caught with attacks when attempting to dodge. Unlike his brother, Pig prefers to use aerials for maximum effect!
10. Darklion (The Light Council)
Rarely plays warrior but is a talented 8 vs 8 team player nonetheless. Adamantly refuses to play on any map other than Rivendell for duels. He hopes to do well in the Warrior League and LC warrior tournament in order to take back his place as a top Tier II warrior.
11. Laebi (The Black Council)
Like many other BC members Laebi uses numerous disguises and fake names so he is seldom seen playing warrior. However when he does play warrior in 8 vs 8, he often prowls around seeking lone archers and becoming their worst nightmare. He specialises in TDM where he usually sits near (if not at) the top of the scoreboard due to his immense killing capacity.
12. Arni Ramone (~VaLaR~/The Light Council)
Arni has become ~VaLaR~'s newest member and has proven himself to be a talented multi-class player. His warrior is no exception: He recently narrowly lost a duel against Royalty and has shown great teamwork in 8 vs 8 modes (especially with fellow ~VaLaR~ members). He boasts devastating finishing combos and aerial attacks which go hand in hand with his accurate axes. Arni has unlimited potential and he looks to improve his duelling ability in the LC Warrior Tournament!
13. Uri Sansa (Equilibrium/The Light Council)
Uri is a core member of eQ and a highly experienced warrior. He is armed with an arsenal of combos which he uses for deadly effect against all classes. Uri scores highly in every game mode and is a supporting team mate. However, he could work on his duelling technique more to rise higher on the rankings, and to earn more glory for eQ.
14. Suzda (Empire')
A rare presence on the battlefields of Middle Earth, Suzda remains a dominating force capable of winning duels against high ranked players, and scoring high scores in 8 vs 8. Nearing the Warrior Graveyard!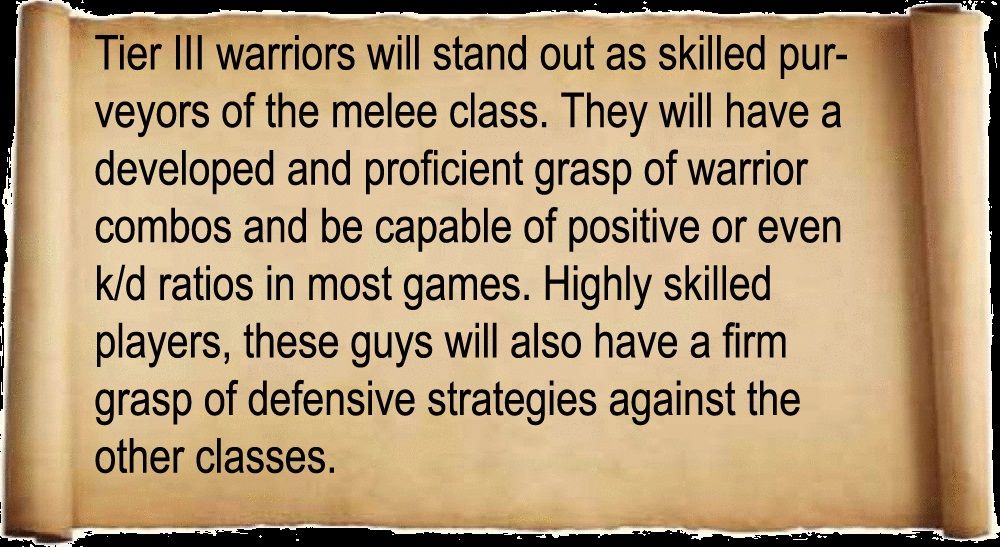 Tier III
1. Panos
Another rarely seen player who never participates in duels, yet should not be underestimated in 1 vs 1 situations. An enormous asset to whichever team he sides with. Panos is especially skilled at taking down foes at long range engagements with flawlessly accurate missiles.
2. Sandy
Sandy is a highly knowledgeable warrior with well practised combos and good knowledge of all the maps and modes. He prefers not to duel, but makes up for it by being totally unselfish in 8 vs 8 modes where he is always the first to break the enemy shield, carry the ring and generally cause trouble for enemy archers and mages. Sometimes a little predictable with his strategy.
3. Abd (~VaLaR~)
A narrowly lost duel vs Royalty has shown that although he rarely plays warrior, Abd shows promise there by using a variety of combos, unpredictable and unorthodox attacks, and precise axes to slay his foes. Abd has the potential to rise higher, but often his attacks miss, leaving him wide open for counterattacks.
4. Victim of Peace (~VaLaR~)
Like his brother Ding, Victim is a valuable team player who will protect his mage until death. He remains relatively untested in duels, but it is safe to presume that with his accurate axes and assortment of attacks he will be just as good a dueller as Ding. He was an incredibly useful support warrior in the BC vs ~VaLaR~ 2014 cw. More practice can see Victim rise higher up the rankings.
5. Killa (Equilibrium/The Light Council)
Killa boasts a solid defensive warrior with accurate axes and varied combos. He has had several wins and close matches in the Warrior League. He is a veteran of the warrior class, but his poor connection often causes his warrior play to deteriorate and not be at its full potential.
6. DemonLord (TacTic/The Black Council)
He is a good team player with a solid and well executed defensive strategy that can frustrate his foes. Sadly he is rarely seen bearing the sword of the warrior, which prevents him rising higher on the board for now. Remains relatively untested in duels.
7. Mates (Equilibrium/The Light Council)
Mates has some knowledge of aerial attacks yet he can sometimes mistime them. He has a decent axe and uses daring light specials to down his foes in 1 vs 1 duels. For greater damage he should enlarge his arsenal of combos to make his style less predictable. Practice with warrior will ensure that he masters the aerials attacks and newer combos.
8. Ramzi (~VaLaR~)
Ramzi showed promise in the ~VaLaR~ vs BC clan war where he cared not about his k/d but instead dedicated himself solely to the team by breaking countless enemy shields. One of Ramzi's main weaknesses is that sometimes leaving the safety of his team's shield can leave him vulnerable to fatal arrows. He remains untested in warrior duels but can easily learn from the other top warriors that Valar is home to.
9. Soldier (~VaLaR~)
Another Valar member who has the potential to rise higher, Soldier has mastered several different warrior combos which he uses effectively in 8 vs 8 game modes. He has not yet been seen in the duelling environment but can easily learn from the other elite duelling warriors that ~VaLaR~ clan has bred.
10. Matgordo
Like the rest of [BOOB], Gordo is the perfect team mate who specialises in breaking shields and flag capturing, while being effective against all different classes in 1 vs 1 situations. He is a long-standing member of the CNQ community which brings experience to his warrior game.
11. Target (The Light Council)
Target is a true rambo warrior. He has a solid aggressive warrior style and is accomplished in using simple but deadly combos. He is the nemesis of many archers, but his aggressive and impatient style can hurt his score in duels. He has almost unlimited potential: Only his lack of patience and not enough variation in his choice of combos prevents him from rising higher at the moment.
12. Morgothi Melkor (TacTic)
Morgothi favours the bow of the archer and seldom plays warrior which means that he is not as proficient with warrior as he is with archer. Morgothi is a highly aggressive warrior, scoring highly on his team especially in the TDM mode. More practice will cause Morgothi to rise up the board.
Tier IV
1. Mayhem (The Black Council)
A surprise entrant of the Warrior League, BC's Shotgun Master has demonstrated skill in warrior by gaining victories for BC including an upset win against Inglorious. Hardly ever seen playing warrior in 8 vs 8 modes of the game. Practice of the class could move Mayhem higher up the rankings.
2. Simon (Equilibrium/The Light Council)
Simon has strong duelling potential and is using his experience in the Warrior League to improve his warrior. Uses a range of attacks in duels but he has not yet mastered aerial attacks or dodging strategies. Sometimes choosing to play the long range game can be his downfall when facing top warriors with accurate axes like Taco and Angelus.
3. Gabriel (TacTic/The Light Council)
Gabriel has had some close duels against Mayhem and other warrior league competitors which he can use to build up his warrior skills. He uses different attacks and strategies in 1 vs 1, but sometimes misses the quick getup which leaves him vulnerable. Rarely plays warrior in 8 vs 8.
4. Redbaron (TacTic/The Light Council)
Redbaron has a reliable warrior strategy and often uses the light special attack to break enemy team shields. He is good at taking down mages and archers with short combos and prefers not to use aerial combos (this can leave him open to backstabs). Often his axe accuracy can waver which is partly down to connection issues. Remains untested in duels.
5. Stigman (~VaLaR~/The Light Council)
Despite not often bearing the sword and axe of the warrior, Stig is always a help to his team in the 8 vs 8 modes and is decent at taking down mages and archers. Untested in duels.
6. Raj (TacTic)
Although he has one of the worst connections in the CNQ community, Raj scores kills with his warrior in 8 vs 8, and has attained high scores in the warrior cup duels. Unfortunately he hasn't been seen for a while now and sadly nears the Warrior Graveyard.
7. Vinco
Rikimaru (tier 1)
Istari (tier 1)
Swami Chuckles (tier 1)
Gothmog (tier 1)
Norq (tier 1/2)
Artem (tier 2)
Paladin (tier 2)
Knoche (tier 2)
Beleg (tier 2)
Turin (tier 2)
Inc. Hawk (tier 2)
Lhii (tier 2)