Post by FiraazZ on Mar 16, 2021 22:31:10 GMT
CNQ REBOOT ARCHER RANKINGS / LEADERBOARDS
Here are the (obviously unofficial) archer rankings/leaderboard for March 2021 (Radmin ERA #1). Please note: this leaderboard is a somewhat subjective view of the strengths and weaknesses of the archers currently playing the game. While we have gone to lengths to avoid personal biases, such as the influence of friendships, this list is ultimately our own opinion and not to be taken too seriously. We will update this table every Season. We understand for season every 3 months, (Spring, Summer,etc,). If you think someone deserves to be on this list, please suggest names below. It's quite possible that due to name changes I am unaware of, someone might end up on the list twice. Please help me correct any errors. Feel free to post results of games or archer 1v1s below (including mandatory screenshot) if you feel they are relevant to the rankings. Rankings are decided on our personal experience of playing against people, their scores in games and in duels and their overall team play. Obviously this is a flawed system, and I understand if people think it's "arrogant" of us to rate players in this way or comment on their weaknesses, but the intent of this table is to have some fun and not to create arguments. Hopefully it might add some more competition to the game.

The table is split into tiers. Archers may be promoted or relegated based on their performance.

Thanks for reading!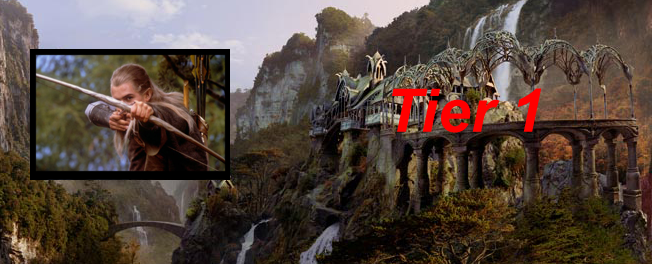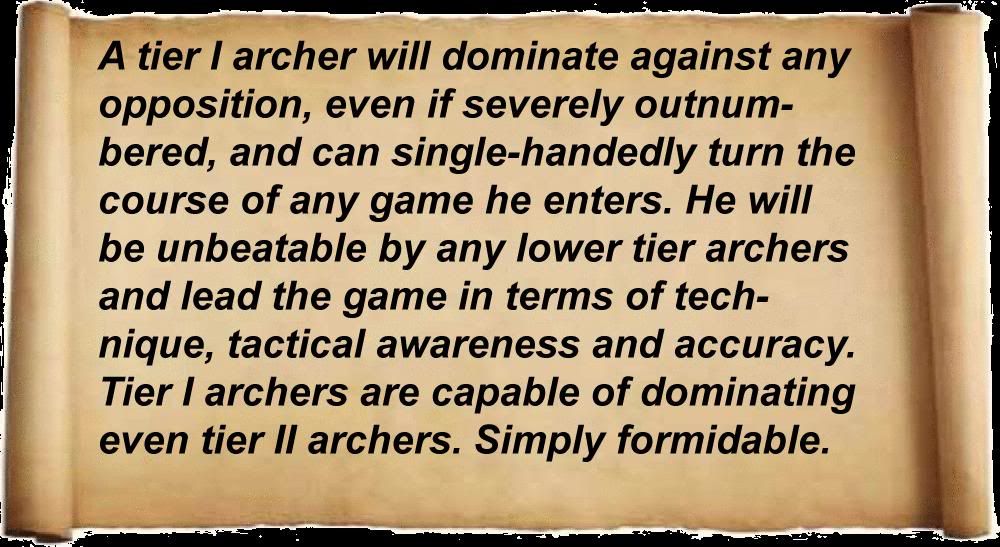 [DC]Darklion is currently the best 8v8 archer playing LOTR. A veteran PC player since EA days has allowed him to be a master of this class in all modes. He has an extreme killing capacity and his aim is unreal. He is clearly the archer who makes the difference in all clan wars and every team who has dark on his team already has a big advantage over his enemies. Despite not being able to reach the success of the gold medal he deserves on olympics, his 1v1's against other top tier archers make him being rated so high. Since Radmin days he has shown us his devastating archer being the highest archer with positive k/d's. Along with Angelus, these 2 players stand out of the others, and as soon as they take the rust out they will have to be in a tier alone.


=[DS]=Angelus is currently almost matching with dark the best 8v8 archer on LOTR. A veteran player from PS3, he has learnt over all these years how to master all classes and his archer is no exception. He can get insane killing capacity and few deaths thanks to his defensive playing style. He has the knowledge to know every trick in each map and his moves and aim are so clean. He is one of the most successful duelists in this class and eventually has won 2 golden olympics medals. Since his Radmin return he has shown us his devastating archer in cw's and reaching scores like 38-2 in Helms Deep. When he gets his rust out and fixes his connection nothing will hold him back and his domination of conquest once again will begin.


w.Istari is a PC veteran since EA days. Alongside few more has the best aim an archer could have. His longshot and shot range accuracy are brutals. He has learnt over all these years each trick and terrain knowledge and can devastate anyone who walks on his path. He is a dominating archer in 8v8's and has shown so in mixed games and cw's. Unlike many archers from tier 1-2 he took a big break long before the shut off of tunngle. So being able to have such a level with all this time without playing shows us how brutal and devastating archer Istari can be.


[DC]Morgothi is deadly like other tier 1 archers. Even back in Tunngle games he could rival best archers, in Radmin era he shows how deadly he has become or even always been. With insane killing capacity, Morgothi allows his team to win mixed games with ease when he's got bow. Despite he didn't had many luck on his olympic matches, he already was a beast on tunngle days and can do a great job 1v1 with any of the archers above. In recent clanwar he showed he could rival archers like Istari with excellent long and short range game. Maybe in coming clanwars he will outshine other tier 1 archers by getting more experience.


=[DS]=Arnii Just like his brother Uri Sansa, Arnii is a veteran from PS3. He was probably one of the most underrated players back in the Tunngle days. Although he primarily trained to become a beasty melee player, he also trained his archer to become a deadly force. It was not until the second BC vs LC cw when his archer finally shone in a competitive cw and greatly helped his team to win this hard fought cw. From then on, he improved himself immensely and proved himself an elite archer by defeating 2 archers higher rated archers in the 2015 olympics, reaching the final and ultimately winning a silver medal. Since his return in Radmin he continuously proves he can compete with tier 1 archers and furthermore unleashing his archer in cw's to a devastating show of mastership. A more reserved or defensive playstyle besides his natural aggressive playing style could help him to improve himself and achieve even greater success.



w.Merlin is a true veteran form ps3. While he manily played mage for years and became the master of it, he decided to be a multi-classman. He began playing archer and his killing capacity is comparable to top archers. He possesses a very good longshot and short range accuracy and can face in a close match any archer above if he has a good day. Despite being the only class Merlin hasn't accomplished any medal olympic he is one of the top archers at the moment. If in the near future there's olympics, we should watch closely for Merlin.


w.Paladin returns with his brother Istari to once again do a deadly duo. Paladin has unbelievable accuracy on any range and extreme killing capacity. He can easily enter tier 1 but nowadays he's rarely seen ingame. Maybe in the incoming clanwar will once again reveal his ability. Possessing a silver medal on archer if Paladin decided to be a regular player again he could match tier 1 archers skills.


=[DS]=Frodo mainly mage these days. Frodo shows excellent aim ability on every range, high killing capacity and good terrain usage - Frodo is a very strong 8v8 archer. Very big threat to even the best archers. He helped to win the 2nd cw BC vs LC and is one of the best ctr archers.


Equester by many called the best archer in EA Nation. Equester proves it with unimaginable accuracy. Very fearsome to face even without cover, he makes every shot count. Unfortunately he lacks terrain usage of top archers and is unproved in clanwars.


=[DS]=Laiebi is one of the best cw archers. He can achieve some great k/d ratios matching with archers above. He has a very strong knowledge of the terrain advantage and has a very good aim. His longshots are very accurate and can always surprise you with short range skills. Laiebi is untested on 1v1's so we lack that information, nevertheless, he is still a beast in mixed and cw's and as he called himself a "Monster" in game.


[DC]Piggy very rarely takes an archer. He proves that he can use it on a very high level nonetheless with his very good accuracy and terrain usage surprising even the best archers in the game. If Piggy practiced more, he could achieve higher positions very easily and become one of the best archers in the game.


[DC]Rektdalf is a hugely improved archer in the Radmin Era. Rektdalf continues to surprise even the best archers with his very good aim and killing capacity. Capable of keeping up with the best archers in score, Rektdalf gets himself a last position of Tier 2.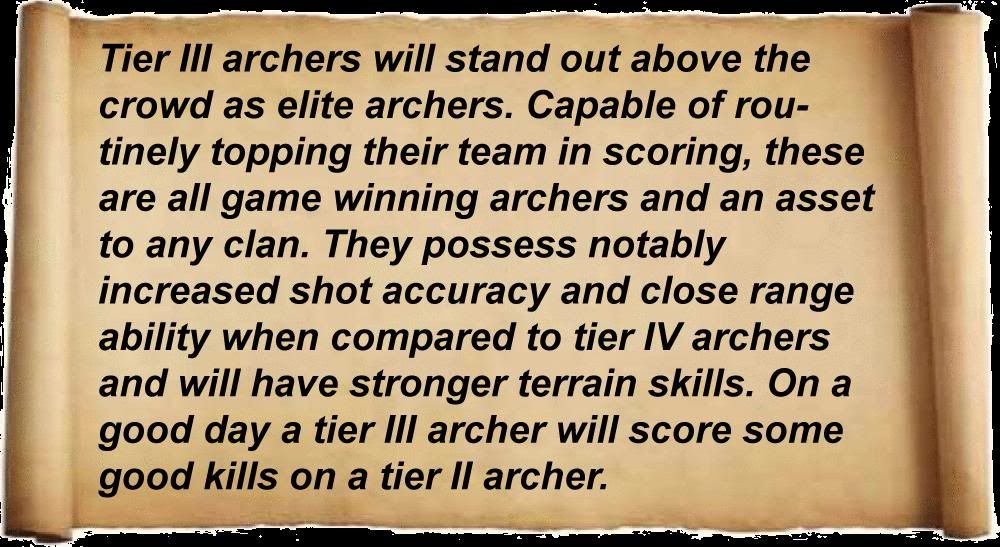 =[DS]=Ding is an old PC veteran. Nowadays he almost always plays warrior or scout, and has become top warrior. He used to play archer a lot more in tunngle days and he was very OP. Sadly these days he never plays it, but even without training he still can do a great job. If he decided to train again he would be much higher on this leaderboard. His aim is crazy and has a good longshot accuracy. Also he has developed a great skill and can use in his advantage the terrain.


Gwindor is mainly known for his warrior Gwindor shows very strong accuracy and killing capacity if he goes archer. His stronger mode when he archers is on HTDM but he can also do an incredible job on other modes. He has a good map awareness and can do nice shotgun strategies.


w.Strider is another legendary player from PS3. These days he plays much more than on tunngle days and his skills are beginning to shine once again. Very good accuracy and decent terrain usage allows Strider to be on top of tier 3 archers. If he keeps playing he might be an almighty force once more!


=[DS]=Lhii is the most notorious antispreader. He shows us very surprising accuracy rivaling even high tier 2 archers. He might be the only archer in the game who doesn't spread a single time, thus giving him more credit for being here. He rarely plays the class and lacks experience in using terrain for his advantage.


[DC]Quegga is a very defensive archer. Mainly plays on stronger spawns getting a very good k/d ratio. He is also a veteran player and knows almost every trick he can do on his advantage. He has good accuracy and can surprise with some crazy longshots.


[DC]Uri_Sansa while he is more known for his mage and melee. When Uri takes the bow he can help his team make the difference. He can have good accuracy and in short distances he might surprise you. He usually only plays archer on ctr. If he played more consistently and in other modes that require more tactics he would greatly improve his bow skills.


w.Olorin is one of the "newer" players of the game. Nonetheless, he has managed to catch up with old players and slowly build his name and skills. He can surprise with longshots and smart tactical moves. He would use terrain advantage or higher ground to finish all the enemies in his path.


=[DS]=MAV is an old PS3 player. Though he is forced to play with ping he still manages to have some great plays. He can help his team with his bow to the point that he can make the difference. He mainly plays archer on CTR or when there is archer spam. He is still not tested on 1v1's but surely he would hold himself.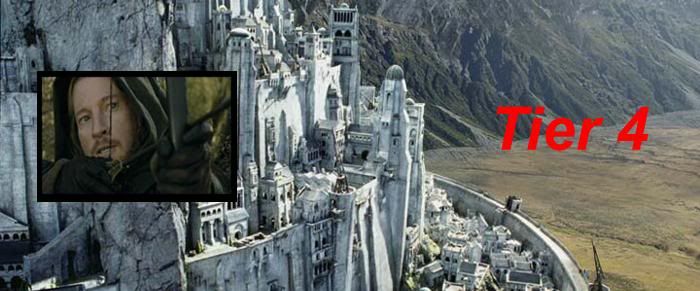 Mithrandir is also considered as a "newer" player. He mains mage but when he decides to take the bow he can surprise us with a good k/d ratio. He takes advantage of the terrain and has a good accuracy making him quite dangerous. Barely seen these days but if he came back and played more archer he could be way higher on this list.


Miraak Newcomer from ISSOU. Miraak shows decent accuracy to place him in Tier 4. Lacks map awareness and terrain knowledge to be higher. If he trained more on his long shot accuracy and terrain advantage he would improve a lot. He is an already improving player and we will have to follow his steps.


[DC]Onde is a pure warrior. When she takes the archer is because there is archer spam and wants to take them all down. When she plays archer actually has good accuracy and very OP spreadshots. Also her OP connection helps her with that. She has a good accuracy overall and is very dangerous at close range!


w.Henry only takes archer if there's archer spam. Henry can be a danger to many archers above him with his good longshot accuracy. Misses on short range.


Toinou another presence from ISSOU. Toinou has pretty good accuracy and killing capacity. He lacks many tactical moves compared to old players but if he keeps playing he will catch up slowly.


w. (Hit) The target true leaderment of melee archer!
For honorable mention we understand that they're players who played on Radmin Era but their time was so short that can't be ranked above. On the next update if some of them plays the class back or return to the server they will get the spot they deserve!
Honorable mention Tier 1: Taco, Mayhem
Honorable mention Tier 2: Ramp,Panos,Demonlord
Honorable mention Tier 3: Simon
PS. I shouldn't be tier 1 but some ppl said they will kill me if i post myself lower