Post by FiraazZ on Mar 25, 2021 23:17:45 GMT
Warrior Leaderboard/Rankings


Based on cws done since return, mixed games, duels, warrior league, etc.
Here are the (obviously unofficial) warrior rankings/leaderboard for CNQ Reboot Radmin ERA #1. Please note: this leaderboard is a somewhat subjective view of the strengths and weaknesses of the warriors currently playing the game. While we have gone to lengths to avoid personal biases, such as the influence of friendships, this list is ultimately our own opinion and not to be taken too seriously. We will update this table every month. Because this is a first version, it is quite possible that we have overlooked someone who needs to be on this list. Please suggest names below.

Feel free to post results of games or warrior 1v1s below (including mandatory screenshot) if you feel they are relevant to the rankings. Rankings are decided on our personal experience of playing against people, their scores in games and in duels and their overall team play. Obviously this is a flawed system, and we understand if people think it's "arrogant" of us to rate players in this way or comment on their weaknesses, but the intent of this table is to have some fun and not to create arguments. Hopefully it might add some more competition to the game. If you'd like your name to be taken off the list, just let me know.

The table is split into tiers. Warriors may be promoted or relegated based on their performance. Finishing bottom of Tier II or Tier III at the end of the season gets you relegated one Tier down. Finishing top of Tier III or Tier IV at the end of the season will get you promoted to the next Tier up. Other promotions/relegations are more selective.

Thanks for reading!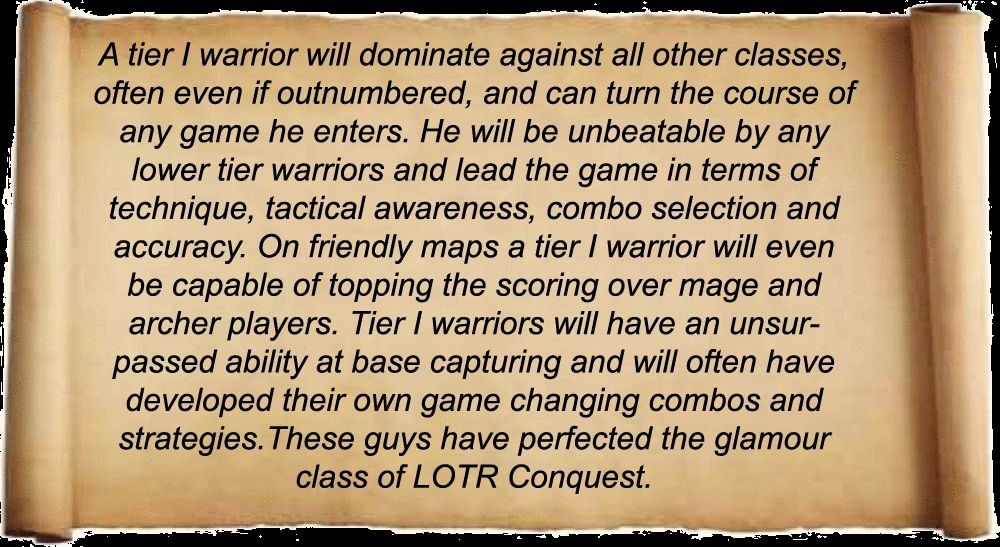 =[DS]=Ding is currently the best warrior in the game. He has been an elite warrior for many years but now he is at the peak. During these years he has been able to build a very solid warrior. One of the best if not the best 8v8 warrior, he can destabilize the enemy team alone. With a silver and bronze olympic medal Ding is one of the most decorated players on this list. He has masterful melee skills and incredible combos to defeat all his enemies either melee or non melee. He is not a fan of the aerial combo but this doesn't make him any weaker. With his old-school warrior style - Ding can beat any enemy. His duelling ability is also very good and he possesses one of the best dodging in the game. He is simply a beast in all aspects.


w.Uk Henry is simply a genius. We've seen this before with Saburex or Zoro. This guy took a break of years just to come back to Radmin and destroy all players who kept playing. Henry is an old Xbox veteran. He was already very good on his days. He achieved a silver medal at the first olympics and had some epic wins in others, for example his match against Angelus. Henry is back and he has been able to take his warrior to unimaginable levels. He has the ability to learn from everyone and he never makes the same mistake again. His warrior was already very good back in Tunngle days, but after his comeback to the game when he dueled Arnii for the first time and learnt how the aerial style works - his gameplay was improved which automatically leveled his skills exponentially. Henry is at the moment one of the best 8v8 warriors in the game. He has done unimaginable scores as a warrior in clan wars and he destroyed opposition on mixed servers. His duelling ability is crazy and he is leading the warrior league. I'm afraid of what Henry's skills will become if he keeps playing more regularly. When we think that every trick was discovered and mastered, will this player actually be able to show us new things? It wouldn't surprise anyone. A total beast as an aggressive player and team player.
"I wish I could say "xyz is the best warrior. But I honestly don't know,
I'm not really thinking too hard about who's who when I fight, in cw
especially. I just kindf kill things".


=[DS]=Arnii Although he never achieved much Olympic success in the warrior class, Arnis warrior has always been a scary sight to behold. He excels both in a 1vs1 and in the 8vs8 and can take on any foe and come out on top. In the Radmin era, he focuses less on the warrior and more on his archer but this doesn't make him any less deadly. He currently brings the best aerial combos in the game and succeeded Zoro's playstyle to a very high, almost flawless standard. He lost a few battles in the warrior league due to a shaky form and less focus on the class but he is climbing and crawling back up to his rightful place to be one of the best allround warriors of the game. His epic comeback against Darklion in the warriors league where he came back after being down 2-6 to an amazing 10-8 win. If Arnii can collect his enthusiastic and aggressive aerial playstyle and combine it with old-school ground melee, nothing and nobody in Middle-Earth can stop him.
"First i learnt Zoro's combos and tried to make them my own. Then Henry came and owned me with my own combos and told me warrior is my worst class. Raise crows and they will take out your eyes. Feels bad."


[DC]Piggy is a hidden "diamond". In mixed games he always is friendly and barely ever really tries hard. But when it's time to play seriously, he unleashes all his skills and power and can devastate enemies and drive the enemy team mad. Piggy has an excellent overall warrior. In 8v8's he can do an amazing job by delaying enemies, protecting mage. He is a very smart player and very tactic and this always helps his team in getting the victory. He understands well all the combos that are needed against non-melee and melee players and can finish them easily. His duelling ability is not an exception, defeating in warrior league top warriors like Henry and Morgoth, and the surprise one Morgothi puts him in tier 1 warrior for the Radmin ERA.


=[DS]= Lhii is a legendary warrior. He is the true Anti-Spreader! Lhii is probably the best 8v8 warrior. His teamplay is absolutely brilliant. This guy is a genius and has learnt every trick to have the knowledge of what's going on everytime in each game.
If you need a shield to be broken, the enemy to be delayed, an immortal ring bearer or an archer hunter, don't worry, because if you have Lhii on your team you know he will solve all the problems. He has a very aggressive warrior and can do lethal combos to finish any enemy. When it's needed, he can be totally defensive and defend the mage and bases. While he is among the very best in 8v8's fights his 1v1's are a bit less trained. If Lhii became an expert in duels he could become tier 1 #1 without any doubt. The anti is one of the mightiest forces in middle-earth! Even more than the spreaders…
"It'll be a cold day in hell when an archer can walk Middle-Earth without casting a look of fear over their shoulder. The Anti-Spreader! and his old OP axes were weakened somewhat due to connection issues during the radmin era, but rest assured his resolve has never been stronger. The Anti-Spreader has never been a particularly strong duelist, but relies on playing the macro game and enabling his teammates to find victory. If the job is protecting teammates, running interference (/running it down mid), or harassing non-melee characters - the Anti-Spreader is at your service. Perhaps one day his sworn nemesis - the Great Spreader himself - will one day return..."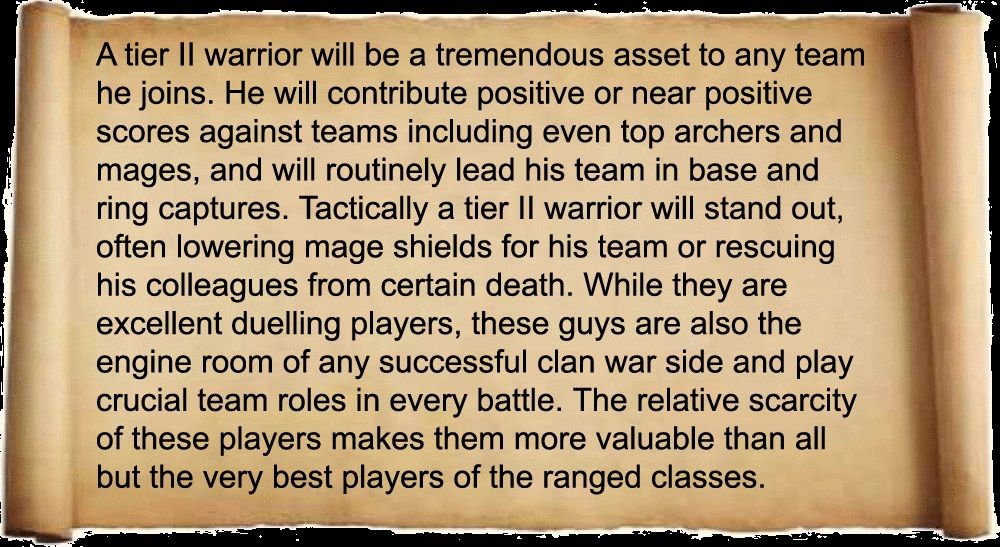 w.Merlin is a double gold medalist in olympics. His 1vs1 defensive gameplay frustrates his opponents to the maximum, making them make mistakes. His concentration level can reach extreme levels and slowly he drives the enemy morale low. An amazing 2 golden medals in a row, the first one showing an extreme ability of dodging and perfect timing combos. And the other one with an axe tag. He possesses an excellent counter-heavy attack that makes him hard to outplay as well as great axe accuracy. His 8vs8 gameplay makes him a solid addition to every team. Focusing on scout nowadays Merlin has potential to rise to the top once again.


=[DS]=Angelus is one of the top multi-class players. His warrior is no exception. He possesses extreme good dodging. While he is a very defensive player, his warrior may be the exception. He will always surprise you because he is a very aggressive warrior. He might rush into you with a light special and before you even notice you will be probably half health or dead. He is a true veteran player and therefore knows every trick and strategy he has mastered over the years. He can be an excellent 8v8 teamplayer and a very top duelling warrior. Some may say his warrior is weak due the fact he hasn't got many success in olympics with that class. But make no mistakes, Angelus is a top player with all classes and his warrior is not an exception. In Radmin ERA he usually goes scout/archer but when he takes warrior it can destabilize the enemy team alone.


w. Taco is a player remembered throughout history. A player of old and quite literally a true warrior. He is one of the biggest olympic heroes and his accomplishments in the warrior class are no exception. As a 4 time Hero Warrior gold medalist combined with 4 silver or bronze medals in the regular warrior, he is truly an amazing duelist. He is also an amazing asset in any team and has a great killing capacity and a big strategic mind. He is one of the early developers of the aerial game style and he has developed it into a rediculous degree of both beauty and icecold calculated murder. Less active these days due to his work related duties and his current timezone, all he needs to rise further up the ranks is more playing time and a platform to show off his skills. The upcoming clan wars can be the time to shine for this Canadian superstar.


Rikimaru is a Dutch player of old. He has been playing conquest since the very beginning. He was amongst the most elite in the class and he recently came back from retirement. Surprisingly, his long departure from the game hasn't weakened his performance at all. Although his playstyle is as oldschool as oldschool can be, he shows it is still as deadly as it was back in the old days. He showed his mastership in the clanwars in both EA, Tunngle and recently in a few Allstars but surprisingly never won a medal in the normal warrior olympics. He did however win 2 medals in the hero warrior tournament and that certainly shows skill and muscle. He has been absent of late and it is unclear if he returns any time soon. A bit more experience in the newer style of warrior and more playing time will surely make him rise ever higher and higher.


=[DS]= Inglorious is a player we all like to see. A true teamplayer who leads his team to any fight with great spirit and sheer will. Whether he fights with eQ, LC or DS, he gives it his all and (ring)carries his team to victory. He has a very aggressive mind and can overpower any foe. He surprised everyone with a silver medal in the 2013 Olympics in warrior. When thinking about it though, it shouldn't come as a surprise at all as this man has the instincts of a fighter. He mixes oldschool and newschool and this makes him unpredictable. I bit more patience and awareness of his surroundings could make him an even greater warrior.


[DC] Morgothi is a big presence in nowadays conquest in the Radmin era. Although known and feared for his archer, he certainly is a skillful warrior player. He demonstrated this in the recent DC vs Wizards clanwar with a great ring capture and skillful kills. He also achieved great success in the warriors league where he has won over many opponents. He has great duel capacity and is also a very good teamplayer with a high kd ratio. More time in the class in clanwars, mixed server and possibly wins in duels against higher rated opponents will make him rise towards the top of tier 2 and beyond.


[DC] Darklion is one of the top veteran PC players. While he is mainly known by many as one class guy that's quite wrong. It's true he mains archer, but after this many years of experience Darklion is decent in all classes. He usually can't focus or doesn't try hard that's why his other classes don't shine as much as his archer. But when he really tries he can fight anyone and make any tier 2 warriors or maybe even tier 1 have a hard time. For example in his warrior league duel when he began owning Arni 6-2. He also does an incredible job in 8v8's protecting the mage and being a very good ringbearer. In conquest mode he also helps the team delaying the enemy team and distracting them making his own team have a good advantage. A very aggressive warrior and very tactical overall. If Darklion got interested in becoming a top player in all classes and someone or something encouraged him to really focus and try hard - Dark could increase his skill in all classes (not archer where he is already #1). If Dark can do a good job and he isn't even trying hard and he's trolling 90% of times, what could he do if he focused and tried hard?
"Imagine if i tryharded lmao. Wtf wrote this"


w.Istari is another PC veteran. Istari was the only player to be #1 on the leaderboards at the same time! He took a long break of the game, longer than most of the players. He seems to be hyped again for the game and is quite a regular player now. Istari probably have one of the most axe accuracy in the game and 8v8 warrior support. He is learning the new-style play and slowly is improving to be at the very top again. He possesses a very good defensive playing style and also has a nice dodging. If he plays more this class his warrior skills would improve a lot and would be able to climb spots in this list!


Arxon is one of the "newcomers" to the game. He played when the game was almost dead and that's probably the reason why not many people know him in tunngle. In Radmin though, Arxon has shown an incredible good warrior. He possesses a very good 8v8 and a strong warrior duelist. He is also a fan of the aerial combos and uses it to destroy his enemies. While he lacks a bit of tactic experience Arxon is a very strong warrior which can lead his enemy to defeat. He possesses a very good dodging ability and deadly finishing combos! He is a very good warrior overall, maybe if he played more "tactic" and used more the map tricks he would climb higher on this leaderboard.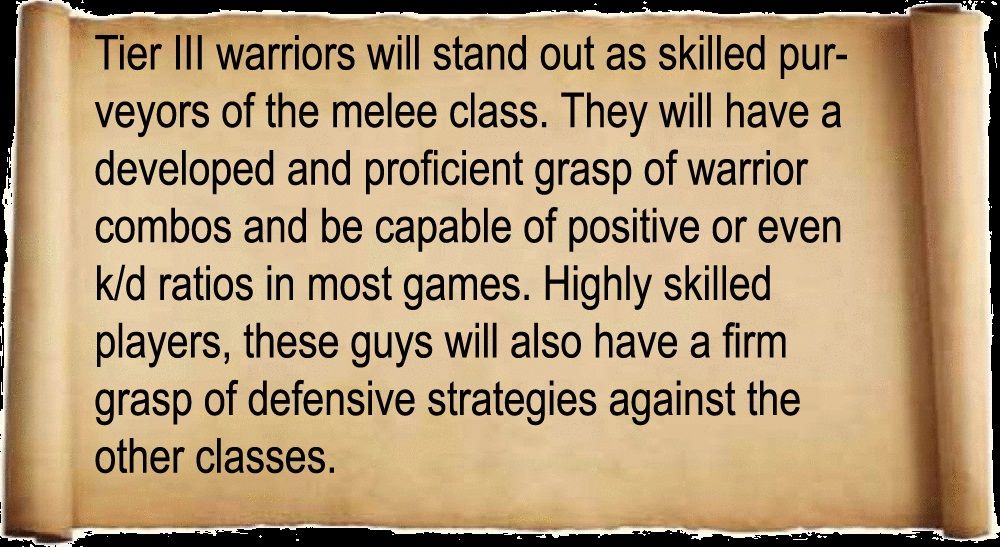 [DC]RAMPAG3 is an old PC veteran. Rampage plays a very intelligent warrior. He has a lot of map awareness and he is a very good tactician. He showed in the #2 BC vs LC cw. In the final decisive map on mount doom he saved LC by defending the points and capturing 1 saving the day for LC. He is also a very top melee player. Has a very strong overall warrior. In Radmin he has come back to the game very recently and he is getting used to the game again and very soon he will be able to climb in this leaderboard and be at the place he deserves!


Panos7 is also a veteran ps3 player. Panos is one of the most experienced and gifted warriors in the game. Over this years he has learnt and mastered perfect dodging and combo abilities. Along with Rampag3 he is also a very tactic and smart player and can help his team with his teamplay. In Radmin half the time he is not trying hard and just yoloing. If Panos decided to take part in the cw event and tried hard he would be much higher in this list for sure. Not really tested in 1v1's.


[DC]Uri_Sansa is a veteran from PS3. Uri is a very good teamplay warrior. He is always protecting the mage and rushing into the enemy to break the shield. He possesses one of the most aggressive warrior style in the game which sometimes is a double-bladed quality. It helps him to have a surprise effect on his enemies and can do a full combo before the enemy can react. But it also leads him to do some bad moves due he lacks concentration. If Uri decided to play more relaxed and focused more in his map awareness skill and tactic like he does in mage. He would climb a lot easier on this leaderboard. Despite having a bit weaker the 1v1's than 8v8's he can always surprise any tier 2 warrior and even have the victory. Along with Sandy they are the last true blinCos remaining in middle-earth!


Gwindor.pl is a veteran player. Gwindor has always been a very decent overall player across the years. His warrior might be his best class. He is a very strong 8v8 warrior with a very high map awareness. He does incredible special combos that can finish with any enemy very quickly. He has a very good dodging ability and can do a good fight to any tier 2 warrior in his day.


w. Target is the brother of Piggy and a relative new player to the game. He is a true ambassador of the melee classes and has a distinct dislike for the mage and the archer in particular. He doesn't focus a lot on his dueling and the 1vs1 but is a strong, aggressive and almost reckless teamplayer. Although he often shines and dictates fights in mixed servers, he hasn't been able to achieve the same success in the clan wars. He improved much during the Radmin era and is using more diversity and recently even some aerial attacks into his arsenal of deadly weapons. He can improve himself even more when he continues to vary his playing style and focuses a bit more on his axe accuracy. Furthermore, he would benefit from a bit more patience and overall awareness of his surroundings.


[DC] Onde is a veteran of old from the console era. With her countless videos of clanwars and her involvement in the creation and maintenance of the servers, she is a big promotor and administrator of the game. As a loyal member of BC, she was one of the first who actively used microphones in a team's communication and fought, talked and guided her team to victory. She recently came back to the game after a time of absence. Onde is more of an old school warrior and relies most on her axe, ground melee and her many special abilities. She is a great teamplayer and feels most comfortable in the front, right in the thick of the action. Although she has been dueling a lot in all her years in the game, she hasn't been fighting much in the 1vs1. She is a great asset to any team but she could improve a bit more by training and relying even more on her 1vs1 and vary her playing style a bit more.


[DC] Rektdalf is a Czech player who started playing during the Tunngle Era and has risen ever since. Although he was playing competitively before, his recent games in Mixed, the Allstar games and the clanwar of DS vs DC have shocked the world with his skills. Although mostly known and feared for his scout and archer, he also has a very capable warrior to bring into the fray. He sadly doesn't use the class much in the mixed servers. He is also not a big duelist either. All Rektdalf needs is time, patience and a bit of mentoring from his friends and clanmates. He has potential but diamonds need to be polished and Rektdalf is no exception.

w. Strider is an old legend from PS3. Considered as 2nd best all around player and 2nd best all-time PS3 warrior, Strider has an incredible knowledge of the class. He knows every trick and strategy to finish all his enemies easily. He has mastered the dodging ability and finishing combos. The only thing that holds him back is the weak connection he has to the servers because he is living in the USA. Nonetheless, Strider is playing much more regularly in the Radmin era and he is doing an incredibly good job in cw's and he might eventually be in the spot he deserves. A living legend which will rise among the very best again!


=[DS]= Siim is a very nice guy who has been playing the game for a while now. While other players fight for individual glory and because they want to leave a mark in the game. Siim plays for fun and because he enjoys the game. He has a good overall warrior style and can do well in 8v8's. Untested in 1v1s but he might do a good fight to any tier 4 warrior and even to a tier 3. Although he has always been a casual player, he now wants to try a bit more competitiveness and will try to surprise everyone in his debut with DS. We will see what Siim can offer when he is focused and trying hard.


[DC]Quegga Is a very outgoing and social player mainly known for his mage and archer. He does pick up a sword from time to time. He hasn't really dueled much in the class but has shown his skills in both the mixed servers and the clanwars. His performance in the class changes from day to day and even map to map. He does try to learn the class and adapt his style, but he seems a bit out of his comfort zone. He lacks consistency but does have the potential and the connection to become a better player. If he picks up an axe and sword regularly, learns from better players and learns from his mistakes, he might rise not only a few places but even 1 or 2 tiers. This guy is a potential superstar.


w. Paladín is a veteran from PC. He recently has been playing the game again.Due being a pro-player in LoL and spending many hours there he hasn't been able to master any other class in conquest than archer. Nonetheless Pala is an expert for the game and knows the basics for all classes. While he is an archer beast his other classes are good overall. He is a decent warrior and understands well the dodging and combos ability. He can do a great job in 8v8's and is a very good support warrior. He has a great teamplay and this makes him be in this leaderboard. Sadly his conquest days will be over soon and it's sad, we will miss him and we always are waiting for him with open arms. We are all part of the conquest fam!


Sandalf is a highly knowledgeable warrior with well practised combos and good knowledge of all the maps and modes. He prefers not to duel, but makes up for it by being totally unselfish in 8 vs 8 modes where he is always the first one to break the enemy shield, carry the ring and generally cause trouble for enemy archers and mages. Along with Uri they are the last remaining of the fearsome warrior group blinCo.


w. Olorin is a Russian player who has been around for quite a while now. He is a frequent player of the warrior and has adapted a mixture of both the old style of warrior and the new. He has dueled quite a few people in the warrior league but this came with mixed results. More duels and training from other players and clanmates can help him improve much in the 1vs1. His performance in the mixed servers can be pretty good but he seems to lack the experience in bigger fights such as clanwars and Allstars. Some training in smaller pitched battles such as a 3vs3 and more clanwars will make him adapt to this new environment and will make him a valuable asset to any team.


=[DS]= MAV Ranking MAV is an almost impossible task. As a player from the good old USA, he suffers from unreliable internet at the best of times to just plain teleporting and pictures of a past reality. Surprisingly, he can perform quite well despite these setbacks. MAV is known to be an adaptable player who reads the game and can change his class, positioning or role into the game. He is most known to be a good teamplayer who sticks with the team and tries to be helpful, any way he can. He has been in many clans and this gave him the experience and the nerves to fight these big fights. He is a frequent dueler (with Ding especially) and also participates in the Warrior League although he hasn't achieved much success yet. The best thing MAV can do to improve his performance, is to improve his connection. So put on your mask and buy and install better internet. That or move to Europe. If he does either of these 2, he would be higher up this list.


Issou Miraak and Issou Toinou are new French players and founders of the new Issou clan. Despite being new players, they give all and despite beatings, continue to play the game and attack the long and steep learning curve. They do play warrior on a regular basis and they can perform well on it in the mixed servers but they're untested in duels or big organised events. They will surely improve over time with both learning from others and experimenting themselves. What would also help, is to be more active in the community and playing in duels and clan wars.
For honorable mention we understand that they're players who played on Radmin Era but their time was so short that it can't be ranked above. On the next update if some of them play the class back or return to the server they will get the spot they deserve!

Honorable mention Tier 1: Saburex, Zoro
Honorable mention Tier 4: Simon
Special thanks to all players that have helped doing the warrior rankings.
Descriptions: Ding, Arnii, Darklion
Spell Checking and grammar: Ding, Darklion
Helping with ranking the players: Ding, Darklion, Piggy, Arnii, Uri, Mayhem and Angelus.